This week I ate the most delicious Mango… It was perfectly ripe, perhaps a tad over ripe, colorful, juicy, sweet and tangy. Absolute perfection as far as I'm concerned. I love fruit and mangos are high on my list along with peaches, plums, cherries, strawberries, blueberries, pineapples…This is my favorite time of year for fruit and that sweet Mexico mango made my day.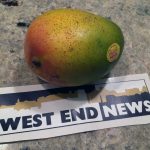 I realize there is an emphasis on locally grown and locally sourced food in many restaurants and markets. This movement is intensifying here in Portland.
"We should all be eating more local food," I hear from friends and farmers at the farmer's market.
It just makes sense. So, this year I'm doing a bit of local growing. A few friends of mine and I started a garden in the West End. So far we've enjoyed a delicious bounty of peas, turnips, beats, radishes, lettuce and now the peppers and tomatoes are coming in. Soon we'll have lots of squash and pumpkin. It feels good to grow your own and tastes great too! Continue reading…