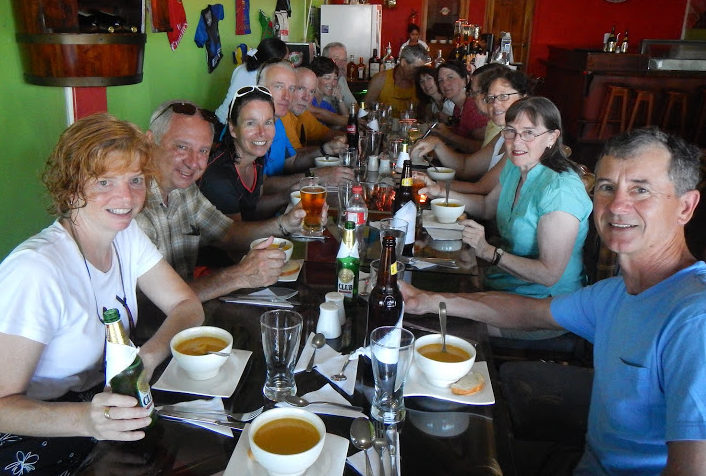 – Originally Published in The West End News, March 2020
Celebrating and sharing successes and blessings…
By Nancy Dorrans
Adventure Marketplace was founded in the spring of 2014 to utilize my decades of travel industry experience (I went to travel school in 1980) and to offer superb personal service along with unique and adventurous itineraries. My courage, creativity, experience, adaptability, and diligence have guided me through these Adventure Marketplace years. There are so many people to thank but I don't want this to sound like an acceptance speech from the Academy. I am grateful and want to celebrate and share my successes and blessings.
Here's the reader's digest view of my adventures over the last six years… Some trips were research and/or educational opportunities. The others were small private group adventures and local bus tours meticulously coordinated and/or escorted. This digest does not include the many individuals, couples, and families I advised and assisted in their efforts to get away and back home again.
Kick off – 2014 April: Australia educational tour from Adelaide to Uluru (Ayres Rock) and on to Cape Tribulation… Heading north through the Flinders Ranges towards Leigh Creek and the residence of Talc- Alf, we worked our way towards Williams Creek and stopped for a tromp at salt Lake Eyre… | May: Quito Ecuador and the Galapagos… private tour for fifteen… We hiked into a rainforest on the island of Isabela, found pink flamingos in the wetlands, blue footed boobies… and penguins too! We shared breakfast with a local highland family and slugged in the rain up to the rim of Sierra Negra Volcano… | Sept: Local bus tour to the Highland Games at Loon Mountain in Lincoln, NH…
2015 Feb: First Annual Quebec Winter Carnival tour from Portland… | May: Spring weekend in NYC scouting out hotels for future groups… | Sep: Return to the Highland Games… | Oct: Failte Ireland trade show and tour of Dublin and Belfast with a brief encounter with a man named Van… Fall Foliage day tours to the White Mountains…
2016 Feb: Second Annual Quebec Winter Carnival tour… | Apr: NYC Portland Community Chorus travels to sing at Carnegie Hall… | May: Southern Africa Adventure to Capetown, Joburg, Kruger, Victoria Falls, and Zimbabwe… sharing dinner with a local woman who plants peppers in her garden to protect her kale from elephants… | June: Adventure Travel Trade Association (ATTA) Conference in Saguenay, Quebec… | Oct: France Biking/Barge adventure from Dijon, cycling through villages and vineyards… one stunning vista after another plus plenty of wine, cheese, and the colorful tile roofs in Beaune…| Dec: NYC Holiday research tour…
2017 Jan: Historical Women's March in Washington, D.C. Our less stressful, more civilized tour with 53 women, one husband, and two teenage boys… | Feb: Third Annual Quebec Winter Carnival Tour… | March: Bermuda "Beyond the Beach" educational tour featuring caves, dolphins, and cycling with the Premier… | April: Springtime "Kinky Boots" NYC tour with a group of SMHC employees and friends… | May: Namibia and Botswana… from the towering dunes of Namibia to the Kalahari Bush and Okavango Delta… Adventure Marketplace loves Africa!… | Sept: Iceland off the beaten path… steaming, boiling, bubbling mud pools, a crater lake, a hike through the Trolls Dimmuborgir village of peculiar lava formations, and the breathtakingly powerful Dettifoss waterfall… | Nov: Pro-Colombia trade show with six-day pre-adventure in the Narino region. Colombia is country full of pride, passion and purpose, utilizing tourism to help promote conservation efforts and sustainable tourism throughout their country… | Dec: NYC Holiday bus tour…
2018 Feb: Fourth Annual Quebec Winter Carnival Tour… | April: Cape Cod weekend tour to the Annual Daffodil Festival on Nantucket… | May: Educational cycle tour in Portugal from Porto to Óbidos… | Oct: ATTA World Summit in Montecatini Terme, Italy… | Late Oct: Quebec City and Charlevoix bus tour… | Nov: Vietnam and Cambodia… almost three weeks of fast paced cultural immersion https://thewestendnews.com/vietnam-cambodia-adventure…
2019 Feb: Fifth Annual Quebec Winter Carnival tour… | May: Women, Walking, and Wine small group adventure to Portugal and the Azores. Each day was stunning, different, full of adventure and spectacular seacoast views from Bispo to Cabo-Verdo Sao-Vincent… the end of the earth… | Early Sept: National Parks of Montana and Wyoming… | Late Sept: Hiking tour of Catalonia, Spain hosted by the tourist board… | Nov: European Travel Agent Forum, Poznan Poland… | Dec: NYC Rockettes Holiday Tour (sold out)
2020 Jan: Kilimanjaro Private Group climb and safari – Happy to report all seven climbers successfully reached the top of Africa…| Feb: Sixth Annual Quebec Winter Carnival tour Feb 7-9th…
Looking ahead Sept: Women, Walking and Wine – Part II, Catalonia region of Spain (sold out)… | Oct: Montreal/Eastern Townships Garden Tour – Details on upcoming tours available on www.Adventure-marketplace.com.
Travel can transform lives and change perspectives, and it allows us to learn through experience. I have been blessed these last six years with adventures that have broadened my sense of place. As travelers, we become part of a global community. I strive to help my clients move outside their comfort zone and explore new destinations so they may learn more about themselves and others…
"Everyone thinks travel is about exclamation points, but travel is about the commas; the comma is where a culture and people express themselves. Commas are where we allow ourselves to breathe, to observe, and that's the travel that I love." – TV host Samantha Brown