By Nancy Dorrans
(originally published January 2020 in The West End News)
If someone asked me a few months ago to tailor a trip to Poland, I would have asked… why Poland? However, this past November, I was selected to attend the debut European Travel Agent Forum in Poznan, Poland, to strengthen my travel expertise for Poland and other Central and Eastern European countries… and it did!
Hidden Dwarves in the Venice of Poland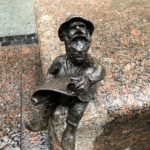 My adventure began in the capital city of Wrocław, (pronounced Va-RAHTZ-lawf) in the Lower Selesia Province. Known as the Venice of Poland, Wrocław boasts 130 bridges connecting 12 islands and one of Europe's most breath-taking market squares!
Hidden around the city there's a tiny world waiting to be discovered. These are the hundreds of pint-sized dwarves of Wrocław.
"…each statue is actually a nod to the Orange Alternative, a peaceful anti-Soviet resistance movement born in Wrocław that used dwarves as its symbol and helped topple Poland's oppressive communist regime in the 1980s." –bbc.com
We journeyed away from Wrocław to the southwest region of Lower Selesia. With over 1000 years of history, this rural and mountainous region has been part of Medieval Poland, Bohemia, Austria, Prussia, Germany and as modern Poland after 1945.
Secrets of The Castle Ksiaz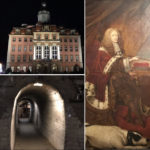 In Wałbrzyck, we had a delicious roast duck lunch and then toured The Castle Ksiaz. Built in 1288-92 the castle has a dramatic history, over four hundred rooms and hundreds of secrets. It is referred to as the Pearl of Selisia, situated on top of a hill overlooking the Pełcznica River.
In 1941, the castle was confiscated by Nazi authorities. Tunnels were built by prisoners who were worked to death during German occupation of WWII.
…
St. Martin's Day in Poznan
After three days of touring Wrocław and Lower Selesia, we traveled to the city of Poznan for our conference. We arrived in time to celebrate 30 years of Polish Independence on November 11th. This is also St. Martin's Day, named after St. Martin of Tours, a revered European saint who was known for his kindness to strangers.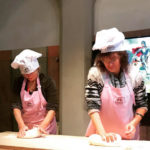 St. Martin's Day Croissants are traditionally savored only on St. Martin's Day (celebrated throughout Europe). Unlike French croissants, they are crescent-shaped sweet rolls with a poppy seed-almond filling. Our group had the opportunity to help create and enjoy these celebratory delicacies before the parade.
…
Dizzying Last Days in Warsaw
After two full days of workshops and meetings we were whisked off to explore the cities of Łódź and Warsaw. Our guide in the city of Łódź (pronounced "woodge") offered an animated walking tour down Piotrkowska Street and a tour of the textile Manufaktura (Museum of the Factory). A few of us enjoyed a late evening of Polish beer tasting and gallivanting. After a morning visit to the Księży Młyn and the Centre of Science & Technology, we headed to Warsaw.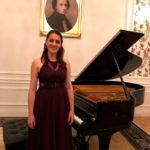 In Warsaw, were treated to a Chopin concert at Frederyk Concert Hall. Fryderyk Chopin is the pride of Warsaw. A talented young woman pianist performed his most famous works from his early, the classical and the late romantic periods. I was mesmerized! 
Our last day was a bit of a blur with a guided tour around Warsaw, including Old Town, Palace of Culture and Science, the ghetto area, Copernicus Science Center, and Lazienki Royal Park, and then an evening visit to the Museum of Life under Communism, the Museum of Warsaw Uprising, and ending with a vodka tasting.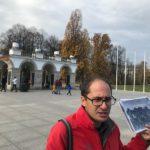 By delving into Poland's rich culture, heritage, and gastronomical experiences, I now have firsthand experience and a clearer view. Being there made all the difference. The experience is worth it and an incredible value! What with pierogis, crystal factories, beef cheeks, a vodka museum, castles, duck confit, spas, markets, Wrocław dwarves, underground tunnels, elaborate murals, ski resorts, wild bison, parades, goats, and St. Martin's Croissants…
Instead of "Why Poland?" I now ask, "Why not Poland?" This country deserves your attention. You should ask me when, where, what, and how? Dziękuję Ci (pronounced YenCooYah). Thank you, Poland! You are an amazing, historic country full of energetic and forward-thinking people.